Did you know that 1 in 5 office workers take up to three weeks off each year due to workplace health problems, in particular lower back disorders and neck/shoulder disorders?   As these numbers increase… more and more people are recognizing chiropractic treatment as an effective method of managing back pain.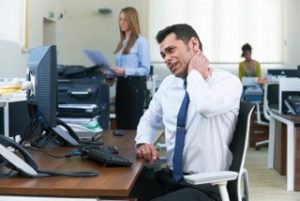 This high demand for chiropractors makes it an excellent career path and that means more offices are being opened, and existing clinics are upgrading their equipment for the influx of new patients.
Planning On Opening Your Own Clinic?
If you intend to practice traditional manual techniques then you will need less money for equipment than someone who wants to be a pro-adjuster, atlas-orthogonal or similar Chiropractor. If your technique requires specialized tables or equipment, this can increase your costs by thousands of dollars.  You will also need to budget money to be used to remodel the clinic, purchase digital x-ray equipment, software upgrades, ultra-sound machines, cold lasers, heat lamps, electric stimulators, furniture, stationery, and other start-up expenses…. Starting to feel Spinal Tapped?
Should You Buy or Lease Chiropractic Equipment?
Whether you are a new start-up or revamping your current clinic, the cost of new or even used equipment is high and it is important to evaluate the costs and benefits by performing a break-even analysis.
Equipment can be leased with little or no upfront capital and lease payments matched to expected machine revenues/cash flow, thus allowing you to stay on the forefront of your practice.  By leasing, you can write the payable off in your    Leasing allows your practice to have access to a higher standard of equipment than your business could afford if buying it outright.
Bottom Line:  Let how you practice be dictated by your passion… and let how you profit be by design…