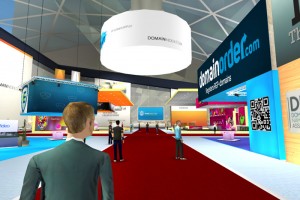 Advancements in technology have created a new type of virtual relationship with exhibiting your products and services to your target market with "virtual events." This however poses the following questions:
Are Live Tradeshows a Thing of the Past? … Is there still value in human interaction?
Can we form the same type of relationships virtually as we can in-person? Of course not! Let's face it, we all prefer to work with vendors and business partners we trust and with whom we share something in common. With that said my colleague and I recently attended a Tradeshow and were impressed with not just the quality of the display booths but with the opportunity to speak directly with experienced staff that were at their booths. The Tradeshow was a success indicated merely by the number of people who attended.
However, as with any marketing campaign you have to examine both the benefits and the risks of exhibits at trade shows, conferences and exhibitions and of course keeping your eye on the ultimate ROI.
Consider the benefits and risks to your business when deciding to exhibit your product or service. These will be different for each event; however, there can be a lot to gain from promoting your product in person within a different environment.
Benefits:
There are many benefits to marketing your business or service at a Tradeshow, Conference or an Exhibition. Did you know there is a difference between a Tradeshow and an Exhibition and a Conference?
·        Tradeshows are generally targeted at an industry and people involved or interested in that industry. Exhibiting at a trade show can be a great way to advertise to a target market and create brand awareness!
·        Exhibitions are open to a large and sometimes diverse range of audiences (usually the general public). This provides you with a platform to promote your product or service to a broader group that may have little or no knowledge of your products and services.
·        Conferences are industry specific and more of a niche venue. Its benefit is that it always have key industry speakers, break out session of various experts that provide their experience and knowledge or specific training sessions. In addition there are always networking events that enable attendees to build relationships.
Depending on your type of business, and/or product or service offering, all of the above can provide viable and cost effective market testing can be carried out at all three venues to gain industry buy-in or general opinion about your offering. Being involved in a tradeshow or exhibition can provide you with opportunities to branch out to business-to-business trading and create a customer database from the visitors to your display booth.
Trade shows offer big benefits to businesses of any size. By combining exposure to a large number of potential leads with the ability to interact personally, trade shows offer an experience for both the business and attendee that other forms of marketing cannot. Though virtual events and other technologies are slowly gaining popularity, few marketing methods compete with the potential of trade shows.
And to top it off… exhibiting at an event is one of the most cost-effective ways for your company to reach qualified audiences…. According to a US study by Exhibit Surveys Inc., the average cost per visitor reached at a trade show is US$150, while the average cost of a field sales call is US$240. You do the math – you definitely get more bang for your buckat a tradeshow or an exhibition.
With a well-designed trade show booth that draws attendees' attention, a few promotional items, a contest opportunity with giveaways and sales collateral, you have a well-rounded booth experience that leaves an impression with a prospective customer for months!
Risks:
It is also important to ensure that you have thoroughly researched attending a trade show or exhibition. There are some risks involved and you need to be aware of them in the planning stages:
·        Trade shows require at least a day and probably more of your time.
·        Travelling to trade shows can be costly.
·        Displaying at a trade show can also be costly if not managed properly.
·        There will probably be quite a bit of competition at all shows, therefore your Brand must make an impact.
Choosing the wrong trade show to exhibit your business's products or services can result in displaying to the wrong audience. A poorly executed promotion or campaign can mean the costs of attending the trade show outweigh any revenue you gain.
First Impressions
We all know that "first impressions" are integral. It takes just three seconds for someone to observe and evaluate you and your company. A first impression can be nearly impossible to reverse or undo, making those first encounters extremely important, for they set the tone for all the relationships that follow.
After all, your Display is a direct invitation to say "Come on in!"  Therefore it's vital to make sure your objective for the show – selling, marketing or corporate image – determines the look and feel of your stand. Choose the overall design graphics and enhancements to your display to boost the image you want to create. Trade shows are a great place to get your business noticed.
Trade shows are a great place to get your business noticed. However, if you really want to stand out, using a custom designed trade show booth design is key. There are many businesses at a trade show, so in order to get noticed, you must stand out from the crowd. Benefits to having a custom designed trade show booth design are as follows:
1. Stand Out: trade shows have hundreds, sometimes thousands, of booths. If your booth looks like all the rest, chances are, your business will get lost in the crowd.
2. Unique & Versatility: choosing a custom booth design that is flexible for either a Conference or Tradeshow will not only show your uniqueness but enable you to invest into the future with a display that is flexible for various booth sizes. If it can expand from 10' x 10' to a 10' x 120' or even a 20' x 20' booth space, what a great time to invest into the growth of your company and brand!
The amazing team we spoke to at Nexus Displays gave us an education on Successful Displays and I am happy to report – Gone are the days of needing a semi-truck to transport your exhibit.  After speaking with the team at Nexus Exhibits I quickly learned that deciding on a space that will suit your objective can be challenging; all too often, people get carried away with the idea that size is better than focus. Small stands can work well. These amazing stands, tables and backdrops are folding up into small packages that anyone can carry. And graphics!  Well. Graphics on any medium have come so far. And it's very cool to see them on large exhibits.
Priority Leasing has made it easier than ever to find the exhibit rental that meets your aesthetic, functional, and budgetary requirements. Below are three examples of some great signage from an 8' Instant Pop Up Display to more substantial displays for your business and the cost to lease!
8' Instant Pop Up Display
 – $137.00 plus GST
20' – $534.00 plus GST
Fuller Display – $2411.00
plus GST.
They are all based on a 36 month term with a $10.00 buyout at the end of the lease.
For more information contact us today!
P: 403-216-1930
C: 403-703-7301