What you see before you is a Calgary business owner confident in his ability to deliver a superior product because he creates, designs and prints on state of the art equipment. Working in the very competitive "print" industry, Zul understands that second rate, or obsolete equipment will not bring about repeat orders.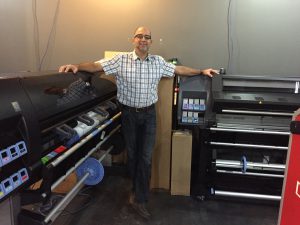 Zul chooses to lease his printing equipment rather than purchase as he enjoys flexible, affordable monthly payments, and the option of upgrading his equipment before the lease is over.
This allows him to continually use the latest technology and keep his competitive edge.
When asked about his experience with the Priority team, here's what Zul had to say…..
"I have been dealing with Deb and her team at Priority Leasing since 2007, and have always found their service amazing and their rates second to none. I have recommended them to several of my colleagues and would do so again in a heartbeat."
You can meet Zul and his team and learn more about their skills, offerings and business philosophies at www.sureprintavenida.ca